Guaranteed Lease Program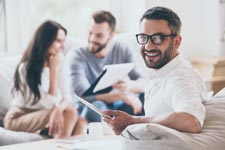 What is the Guaranteed Lease Program (GLP) ?
The Guaranteed Lease Program is a program offered by Red Door Property Management that allows you to take advantage of the buyer's market without taking a huge loss on your current home. If you purchase a new home with Red Door Real Estate as your buyer's agent, we will guarantee rent payments on your current home for 1 year. This allows you to move forward with the purchase of your new home with the peace of mind of guaranteed rent from your current home.
How does it work?
It is simple, purchase a home with us as your buyer's agent and we guarantee your current home to be rented at 90 – 95% of market rent for one full year. Red Door Property Management will handle all the ugly details involved in being a landlord including: finding renters, screening and conducting criminal and background checks for applicants, collecting security deposits, collecting rents, and attending to ongoing maintenance issues.
FAQs
What if my home goes unrented during GLP term?

We cover all rent to you even if the home is not rented!

What happens if a tenant doesn't pay?

In the rare event a tenant doesn't pay Red Door Property Management continues to pay you rent for 12 months! This is what makes working with RDPM such an easy transition to your new home.

This sounds great, but I don't want to be a landlord. Will I have to look after tenants, collecting rent, repairs, etc?

No. In fact you can just sit back and collect your rent check while Red Door Property Management does all the work for you. We take care of all of the day to day details of renting your home including: marketing, screening applicants, repairs, move in, move out, collecting rent and all other tenant issues.

Can I list my house for sale and if it doesn't sell then use the GLP?

Sure thing! In fact this is a very common practice. Just give us 60 days notice to market your home as a rental. After this period, you start receiving monthly rent payments even if your home is vacant. ***Ask about our commission discounts for listing your home***

Do I have to purchase my new home with you to qualify for the Guaranteed Lease Program (GLP)?

Yes, you will not only get the benefits of using the GLP program but also get an experienced Realtor® who will protect your best interests and make your home purchase a smooth transaction.

Do I have to use Red Door as my property manager?

Yes, this allows us to control the quality of the tenants and protect your investment

My current home is upside down, can I still use the GLP?

Absolutely. If your home is upside down, the GLP offers you a great solution to get into your new home now and take advantage of this buyer's market and great interest rates. The rental income can pay down the mortgage and also allow time for the real estate market to improve.
Peace of Mind
When Red Door Property Management manages your investment, you can have the peace of mind that we will treat your home like it is our own. We take great pride in providing the best customer service for our property owners and go the extra mile to ensure our owners have 100% peace of mind. Here are just a few extra mile services we offer:
Exhaustive tenant screening
Exterior inspection every month with emailed photo
Interior inspection twice per year with emailed photos and video
Move in and move out video inspections emailed to owners and tenants
Automatic e-deposits into owners accounts
24/7 online access through Owner Portal
Inquire About Our Services