Airbnb Management Indianapolis
Red Door Property Management is proud to be one of first and only full-service short-term rental management companies in Indianapolis. We manage Airbnb, VRBO, Home Away and all forms of short-term rentals. While Indianapolis may not be on the top 10 lists of Airbnb cities yet, there are plenty of opportunities in the Indianapolis market to capitalize on short term rentals and the huge ROIs they offer.
Contact us for a free Short Term Rental Analysis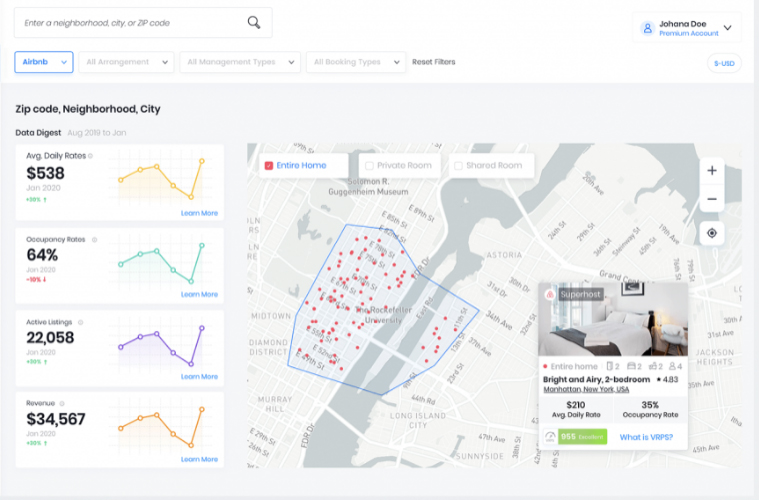 Inquire About Our Services
Short Term Rental Management Pricing
25% + $99 / month (technology fee)
| | | |
| --- | --- | --- |
| | National Discount Property Manager | Red Door |
| Advertise on Airbnb | | |
| Advertise on VRBO | | |
| Advertise on Home Away | | |
| Message with customers | Only up to check-in | |
| Dynamic pricing – link to description below | Basic | |
| Local | | |
| Pay local and state taxes | | |
| Guest book set up | | |
| Monthly inspections | | |
| Handle cleanings | | |
| Professional photos | | |
| Guest damage waiver | | |
| Full accounting | | |
| End of year 1099 | | |
| Electronic (ACH) distribution of funds | | |
| Professional housekeeping | | |
| Guest services | | |
| Vendor coordination | | |
| Bill payments | | |
| Monthly inspection with report | | |
| Replace AC filters, smoke alarms batteries, light bulbs, remote batteries | | |
| Setup | | $500 |
| Maintenance coordination | | 10% markup |
Contact us for a free Short Term Rental Analysis
With institutional investors flooding the long-term rental market and driving down returns, many investors are looking to the trend of short-term rentals / vacation rentals that is sweeping across America and the globe for higher returns on their investment. The ROI on short term rentals is far superior to that of long-term rental homes.
The downside of short-term rentals (STR) is they are a LOT of work. If you have one STR and have an average occupancy of 60%, that would be 219 booked nights per year. With an average stay of 3 nights, that is 73 stays. 73 move ins, 73 move outs, 73 inspections, 73 cleanings, 73 different guests with 73 different expectations. Not to mention the work involved to get those 73 stays booked and so much more!
This is where Red Door Property Management comes in. We can help manage your short-term rental in the Indianapolis and surrounding areas. We offer FULL SERVICE property management for vacation rental homes. That means we take care of everything from start to finish. From advertising to guest communications to maintenance, Red Door handles it all. We offer a service to fully furnish and set up a home from scratch.
We even offer furniture rental if you have a home but are unable to provide quality furnishings to get your Airbnb started!
Contact us for a free Short Term Rental Analysis
Indianapolis Short Term Rental Management - The Red Door Difference
Why work with Red Door? Working with Red Door on the management of your short term / vacation rental is not for everyone. Someone looking to self-manage or cut corners will not be the right fit for this program. We only offer full-service short-term management services for those owners looking to provide an A+ customer experience to their guests. We personally own several Airbnb's in the Indianapolis market and this is how we manage them. Here are just a few differences you will notice when working with Red Door to manage your short term rental:
In depth research to determine rental amounts and occupancy rates
Dynamic Pricing - link to dynamic pricing portion of the page
Professional photos
Thoughtful Guest Book set up
Instant communication with prospective guests
Contactless check in / check out
Remote noise monitoring in your home to prevent parties
4 - 6 Deep cleanings per year (cost of cleaning is not included)
Dynamic Pricing
What is dynamic pricing and why does it matter? Quite simply, dynamic pricing is pricing your Airbnb according to supply and demand. For example, instead of just picking a static price and asking for that every night, dynamic pricing looks at all the factors, looks at the demand in the area, looks at the supply, looks at the number of searches, looks at major events upcoming in the area and prices your home accordingly. For example, here in Indianapolis we are fortunate to host many great events throughout the year. Pricing during the Indianapolis 500 or the Big 10 Championship will be way higher than a random mid-week in February. Dynamic pricing ensures that you don't leave any money on the table and we as your short-term rental management company are maximizing your revenue. On average, homes that use dynamic pricing get 40% more income than homes that do not use dynamic pricing!!
Contact us for a free Short Term Rental Analysis
Indianapolis Airbnb Rental Management Tech Fee
You might asking yourself, "why do I have to pay a $99 technology fee in addition to the management fee?" We have the tech fee added because, as mentioned before, we manage our homes just like the ones we own in Indianapolis. It takes a good amount of technology to property manage a Airbnb or VRBO at a high level. The $99 fee goes to cover the cost of the following:
Dynamic pricing algorithms
Ring Door Bell cloud storage (cost of Ring Doorbell separate)
Ring / Nest camera cloud storage (cost of cameras separate)
Noise Alert monitoring – this is a service that monitors the noise levels in your home and sends us an alert if the guests are being too noisy (cost of hardware not included)
Getting Started
At Red Door, we want to make getting your Airbnb set up as easy as possible. When you work with us, we will give you a list of items that are required to have in your home and a list of items that we highly recommend you have in your home. We will send you a link with all these items in a cart and you can purchase them directly from there. Don't have time to mess with it? Learn about our furniture program for a more full service, hands off set up process.
Get Started